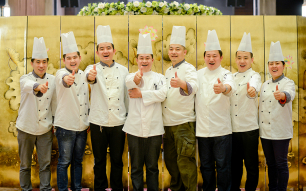 A foot single spoon, thread.
Don't fear lampblack, not afraid of hot.
Thrown cooking, suantiankula all speeches.
Yi jiang Yang green plateful spring scenery.
Making tradition and innovation give prize!
Contemporary cook, cook delicious, healthy!
Bachelor in a way, a heart to the kitchen.
Chef introduction
Li Qingyue

Current the tyrone hotel executive chef, national senior technician cooking, cooking association, jilin province cooking association, vice chairman, one at the beginning with the wind the bright moon dream from a small village in northeast China out of the children of the youth, has special skills of northeast man, more than 20 years with interest in the culinary culture, persistent pursuit, tireless spirit and unique understanding, and swim in the sea of aroma form, fully enjoy the fun of cooking, deduce their own colorful life.
On innovation is committed to the pursuit of new, utensils, dishes, new taste and new techniques. Such as li kitchen "sweet fume young pigeon", the specialty of material using the American falls diwang young pigeon with homemade sauce smoked, XiangNen crisp taste; Jerked beef spell shark fin soup, a beef fragrant crisp delicious food two strong, coke, shark fin, tender garlic smell; Ginseng rice boiled liao, the baishan specialty ginseng meters with Japan's kanto in on a secret stock to boil into the system, the soup tastes rich nutrition.

Zhang peng

Senior cook
From 16 years, successively in days hotel, jin-an hotel, golden state hotel, golden valley ocean terminal for hotel work. Since 2014 to tyrone restaurant as a chef. Good at making innovation fusion cuisine.

Zhi-chun wang

Senior cook
Employed in 15 years, successively in changchun armed police corps hotel, new Asia hotel, notes hotel dock, seafood restaurant study work. Since 2009 to tyrone hotel work. Good at food production and fusion cuisine.